The TPO is creating a regional Roadway Safety Action Plan beginning in January 2023.
This will be a different type of roadway safety plan, one that takes a Safe System approach. The Safe System approach acknowledges that humans make mistakes, and that deaths and serious injuries are not an acceptable cost of doing business.
To create the safety plan, we'll use data, local expertise, and public feedback to find the locations where people are most at risk of experiencing a crash that results in a fatal or serious injury. Then we'll identify projects and programs that address those risks, and we'll work together to implement them.
The goal is zero deaths or serious injuries on our roadways. The Safe System is how we get there.
Alignments
THE TPO WILL COLLABORATE WITH PARTNERING AGENCIES TO ENSURE ALL SAFETY EFFORTS ARE COMPLEMENTARY.
The plan will align with:
Crash data
The Roadway Safety Action Plan will be data-driven, and will make use of demographic data, community insight, and historic traffic crash data.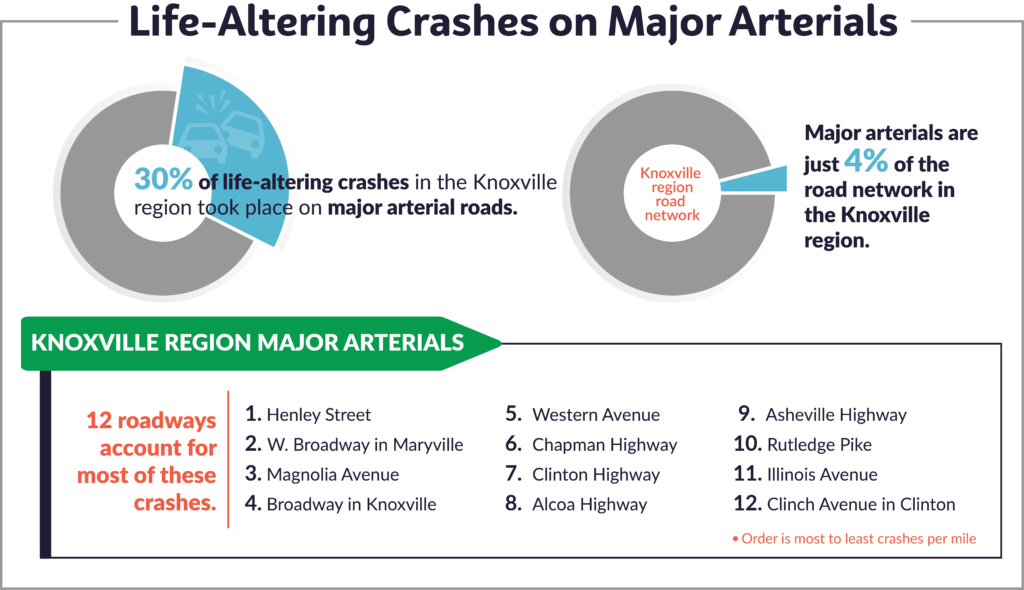 Outcomes
The plan will also help identify changes we can make locally right away to save lives and prevent serious injuries on our roadways. Key outcomes of the plan include:
Designating a high-injury network, those roadway segments that see the most life-altering crashes in our region
Identifying projects and strategies that will reduce the number of fatal and serious-injury crashes on our roadways
Creating a transparent platform for tracking our progress on improving roadway safety.
Task force + timeline
A task force including staff from the TPO, local government, TDOT and Bike Walk Knoxville will guide the planning process.
The plan will go to the TPO Technical Committee and Executive Board for approval in summer of 2023.